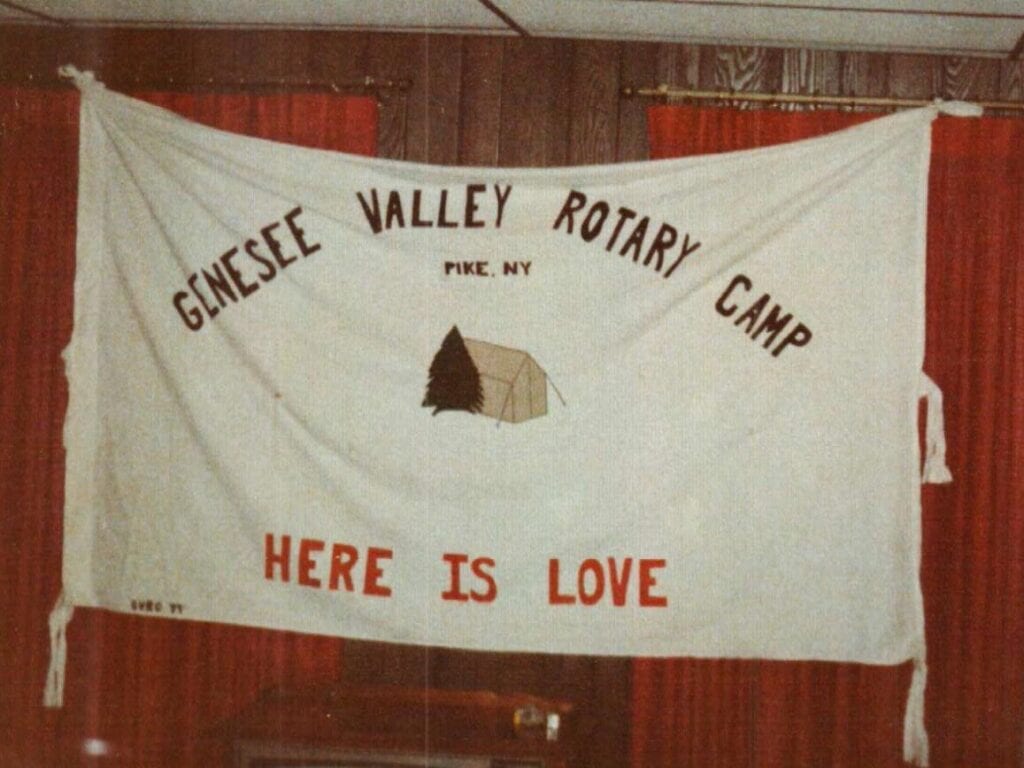 I don't think I have to write what the word of the day is today. You already know…
Yup.
L-O-V-E
It's what it's all about.
(that and the hokey pokey)
Friday's word of the day at GVRC is always LOVE. It's a day filled with love at a place built on love.
"Here Is Love". Can you think of a better motto for GVRC? It's perfect. It's who we are and where it's at. It's all about love.
A little history for you youngins… "Here Is Love" is a phrase that came about at GVRC back in 1979. I was around camp with my dad a few days that year, but wasn't old enough to be on staff. 1979 was the year that SUNY Brockport hosted the world for the International Special Olympics. GVRC took buses from Camp Sam Wood to be a part of this incredible event and experience. So the staff decided that a banner to represent GVRC was needed. A large white sheet was painted with the tent and tree symbols of camp we all know and love. I wasn't there, but as the story goes, they needed a slogan, a motto to put on that banner. It's quite possible that a young Mr. Mark or Mr. Terry asked a camper to describe GVRC. "Here Is Love" is how the camper described her favorite place on earth. And a motto was born. The staff and campers flew the new banner that day in the stands at Brockport to show who they were and where they were from. It's been our camp symbol and motto ever since.
Now I may not have all the details exactly right. I'll let Mr. Mark correct me. However, the spirit is there. The part I love and appreciate so much is that our camp motto came from a camper. Here Is Love has defined our camp ever since. It's so simple and so powerful. We use HIL now as a camp closing salutation to our written words and those three letters adorn bumper stickers on our cars. It defines us and is our code. The words Here Is Love have been wrapped around my wrist for so long now, I can't remember when I didn't have a blue band to look down on, especially when I need some strength or a smile.
Have love in your hearts today my friends. Smile and glow in the knowledge that you have made a difference in a child's life, many many children's lives in fact, for your connection to GVRC. Thank you for that. You are loved. Keep loving GVRC, it's more than a 1 week summer camp.
In my head, I can hear a Bob Marley tune as chairs are being folded up, tables are being taken down, and the hoses and brooms are coming out to clean up the ol' dining hall… cuz we got a dance tonight!
I can see Woodsie and the guys up there in the colored lights and the familiar sounds of "Brown Eyed Girl" gets everyone out on the floor singing and dancing. I think Woodsie has sung that tune more than Van Morrison, but it's fresh each time he belts it out at the GVRC dance. So put a neon tube around your neck and hit the concrete, there's love in the air tonight! SU-PER FREAK! SU-PER FREAK!! SU-PER FREAK!!!
Happy Friday Camp.
Here Is Love.
-Bart